A colourful and exciting experience that will delight all thrill-seekers
Fresh out of the universe of terror and Mexican legends, comes La Muerte Viva from PortAventura World. A colourful and exciting experience that will delight all thrill-seekers. A journey at the heart of an old Mexican hacienda that is home to – thanks to performances by more than 25 actors – grieving widows, corpse brides and other terrifying beings in a unique Mexican 'Day of the Dead'. This is the first passage of terror in Europe inspired by the horror universe of Mexico.
A traditional Mexican celebration that pays homage to the goddess Mictecacíhuatl, also known as the 'Lady of the Dead'. The origin of this tradition dates back to pre-Hispanic times, when indigenous communities used to preserve the skulls of the deceased and use them for rituals in which death was honoured and rebirth was celebrated.
The popular Mexican belief is that every Day of the Dead the souls of deceased loved ones visit the world of the living. This is why those who celebrate it place an altar at home with photos of the people they wish to remember, together with food, candles, sugar skulls, and flowers. Life and reunion with the deceased who return to our world for a day are celebrated.
Story of La Muerte Viva at PortAventura Park
A very long time ago, everyone knew me as Katerina. I was always the kind owner of a popular hacienda from which everyone left satisfied and grateful. A family place where folk could rest and spend the night after eating delicious traditional Mexican food. But nothing would ever be the same again.
Day of the Dead was drawing close and I asked everyone there, the guests and a couple of Mariachis, to not celebrate this occasion in my hacienda. We ended the day drinking and playing cards, to the point of feeling drowsy from alcohol and entering into a state of panic. Everything went dark and the cries of my loved ones echoed in my head over and over again. When I woke up, all stiff and numb, the guests began to appear one by one with their soulless faces. The music that the Mariachis were playing in the hacienda was no longer joyful, but a disturbing tune that pierced my skull. The place felt creepy and my thoughts turned gloomy.
I fell into a state of anger and despair, and I couldn't remember my name anymore. I never again had any memory of what Katerina was like in life. My kindness turned into fury, my solidarity into rebellion, and all that was good was now shrouded in evil. I was still the owner of the Hacienda, but of a hacienda plunged into terror and turned into a limbo for all our souls. Now I am La Catrina, nothing more and nothing less than the Grand Lady of the Afterlife.
They say, to this day, that the dying spirits of these poor souls are still trapped in the hacienda, becoming more and more enraged at not receiving any redemption. And with only one task left for them to carry out: to make their anger rain down on anyone who has the courage to enter the cursed hacienda. Or as they call it, La Muerte Viva – The Living Death!
Meet the stars of La Muerte Viva passage of terror
You already know the story and origin of this unique passage of terror inspired by Mexican culture. Now we are going to meet its protagonists, the characters that everyone is afraid of meeting, before entering the hacienda.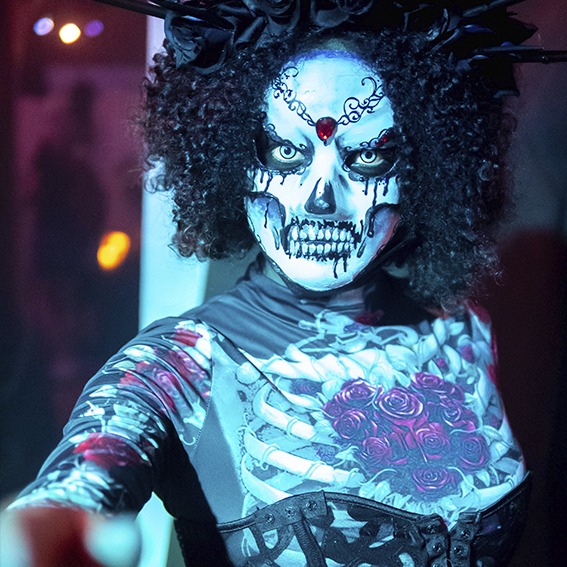 Katerina
The hacienda owner. She discourages everyone from celebrating Day of the Dead. Rebellious, energetic, and strong. La Catrina is the symbol of death and the icon of Day of the Dead in Mexico. Her original name was La Calavera Garbancera and she was created as a criticism of the Mexican class system. She embodies the meaning that in death we are all equal, rich and poor alike.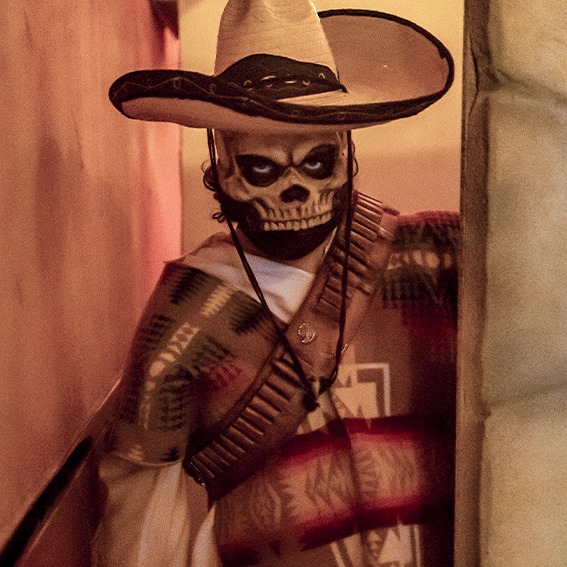 Mariachis
Festive band in charge of providing musical entertainment at the Hacienda. They were wary of the dead and heeded Katerina's warnings. Now they are playing for eternity. Festive, cheerful character, providing scares with some light relief.