Have you ever dreamed of touching the sky? We have. That's why, at
PortAventura
we are huge fans of free falls. They give us that feeling of reaching the top, to then surprise us with an exciting plummet. Today we tell you about the different free falls in our parks and a little about their history. Let's get started.
The 4 free falls of PortAventura World and their heights
Hurakan Condor – 100 metres
The jewel in the crown of PortAventura Park, opened in 2005. Standing 100 metres high, this attraction is not made for those who suffer from vertigo. Even thrill-seekers will be awed by this impressive tower, and that's before you even start the climb. When it does rise upwards, you won't want it to stop! Because when it does, you'll be catapulted at a speed of 115 km/h, all the way down in just 3 seconds. We guarantee you've never felt anything like it!
Thrill Towers – Drop tower – 55 metres
It wouldn't be fair to leave Ferrari Land without a free fall attraction.  In 2017, when we were thinking about how to convey the sensation of acceleration of a Ferrari sports car, the closest feeling was the way in which a free fall picks up speed by releasing its weight. The result? 55 metres of free fall that astounds every single rider.
King Khajuna – 33 metres at a 55-degree angle
The next free fall in PortAventura World is King Khajuna. Believe it or not, King Khajuna, one of the best attractions in Caribe Aquatic Park, is also a free fall. A mighty 33 metres of free fall, the equivalent height of a 12-storey building! Obviously, it is not completely vertical but tilted at 55 degrees; but if you think that this makes it less exciting, you are very mistaken. In this attraction there will only be you, the water, and the slide, so the sensation becomes more intense as the speed increases. You will plummet up to 6 metres per second!
El Salto de Blas – 7 metres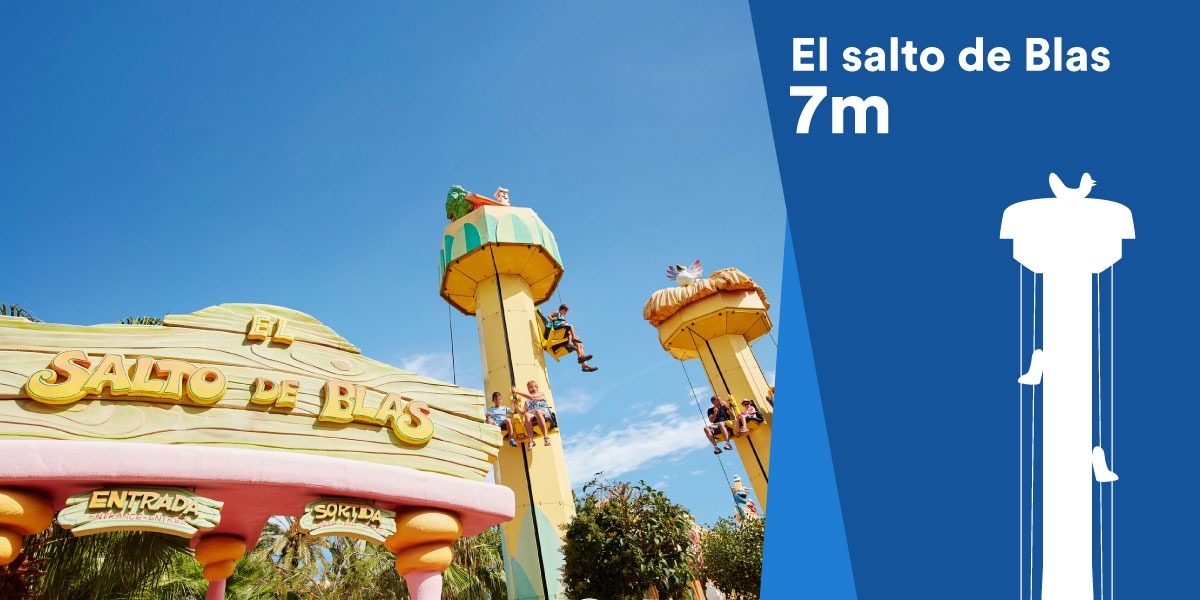 As an introduction to free falls, El Salto de Blas is one of the most perfect attractions at PortAventura Park. At all times you can control whether you want to go up or down, which will give you an even greater sense of security.
But don't think that because it is the smallest it is the least exciting. Remember that when you're little, everything seems so much bigger. Even this ride!
Over to you. Do you remember your first free fall? Which one was it? What is your favourite PortAventura attraction? Whatever your first experience, it was sure to have been spectacular. That's why you're now truly adventurous and enjoy PortAventura World as much as we do. And remember that if you want to spend some time in our parks, on our website you will find a section with the best offers and promotions for visiting PortAventura. See you in our next post!