Access to PortAventura Park and Caribe Aquatic Park

Private area to manage your passes and benefits

Purchase and renew passes from your mobile

Easy payment, including the option to pay with Klarna
The ideal Pass for explorers
If you are looking for a more complete experience all year round, this is your Pass! Not only will you have unlimited access to PortAventura Park to enjoy the best attractions, but you will also be able to access Caribe Aquatic Park from the opening date until 11 June and from 4 September until the end of the park's season.


In addition, you will have all kinds of advantages and benefits to create an adrenaline-filled experience.
Read more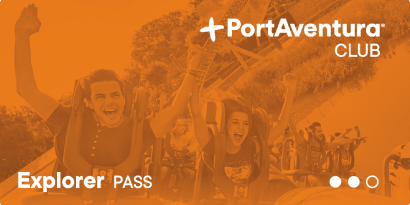 Enjoy all kinds of benefits
With the Explorer Pass you can enjoy all kinds of benefits both inside and outside the park.
Explorer Pass prices
Here you can see all the Explorer Pass prices based on the Pass category you select.
| Category | Price |
| --- | --- |
| Children (0-3 years) | Free of charge |
| Junior (4-10 years) | €140 |
| Adult (11-59 years) | €175 |
| Senior (+60 years) | €140 |
| Disabled visitors (33% - 74%) | €140 |
Discover all other passes
Also check out our Adventurer Pass and Discoverer Pass:
Adventurer Pass
Access to PortAventura Park from 180 days per year and more advantages.
Discoverer Pass
Unlimited access to PortAventura Park, Ferrari Land, and Caribe Aquatic Park, and all kinds of advantages.
Frequently Asked Questions
FAQs about passes
What are the names of the new Passes?

Adventurer Pass, Explorer Pass, and Discoverer Pass. You can purchase them on the website and at the Club Office from December 2022. You can consult all the information related to the new Passes on the PortAventura World website.

What happens to my old Pass?

Don't worry, you can continue using it until the expiration date indicated on the Pass and you will continue to have all the advantages in force at the time of purchase.

What payment options do I have?

You can purchase your Pass in two different ways:

1. Website: with a credit/debit card in a single payment or in 3 interest-free instalments with Klarna.

2. Club Office (park): with a credit/debit card or in cash in a single payment.
Pass types
Each of the passes has 6 categories:
Children: free for children under 4 years old. This Pass does not have any other benefits associated with it; it is renewed every year, and does not accumulate benefits over time.
Junior: 4 to 10 years.
Adult: 11 to 59 years.
Senior: 60+ years.
33-74% disability: reduced rate upon presentation at the Club Office of valid card, certificate or official document.

If you also have recognised reduced mobility, the card will include identification that you can use to access rides via the exclusive access for people with a disability and reduced mobility.

This identification will be valid for the person with a disability and reduced mobility and will allow them to enter via the exclusive access accompanied by a maximum of four other people, at least one of which must be an adult capable of assisting the disabled visitor, following any instructions given by staff.
Special terms and conditions for families:
from the fourth member, JUNIOR passes only: 25% discount.
In the case of single-parent families or grandparents + grandchildren, the discount will be applied only if they belong to the same household and upon presentation of the family book.
Discount available on the website and at the +PortAventura Club Office.
Methods of payment
You can choose between two payment methods when buying your new Pass:

1) In a single payment on the website with a card, or at the Club Office with a card or in cash.

2) In 3 equal and interest-free payments with Klarna, our new deferred payment partner. Only available on the website. If you choose deferred payment, the first instalment will be charged when confirming the online purchase/renewal, the second instalment will be charged after 30 days and the third, 60 days after initial payment. And you won't have to worry about remembering the dates, because each payment will be automatically charged to the debit or credit card on file when you make the purchase.