Ferrari Land Shows
The Ferrari Land shows bring you closer to the Formula 1 universe. Starring the Italian motor racing team and charged with the same intensity as the races they take part in, they are an opportunity to feel like a real racing driver!


In addition to learning about the team's history in this sport, there are shows for all tastes. The Acrobatic Show is a must-see, in which you will enjoy music, acrobatics, choreography, and other sports such as basketball. Let yourself be carried away by the rhythm and the music!

And since Italy is a country that boasts great artistic and cultural wealth, the Ferrari Land shows do not neglect their roots. In the show Rondò Veneziano you will be introduced to the traditional dances of the nobility in the 18th century, with their captivating sets and costumes, and Folklore Italiano will bring you closer to peasant dances and traditions.

Travel to Bella Italia on the wings of the Ferrari Land shows!
Read more
What are you looking for?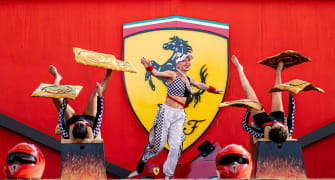 Acrobatic Show Ferrari Land
For drivers with a lot of pace