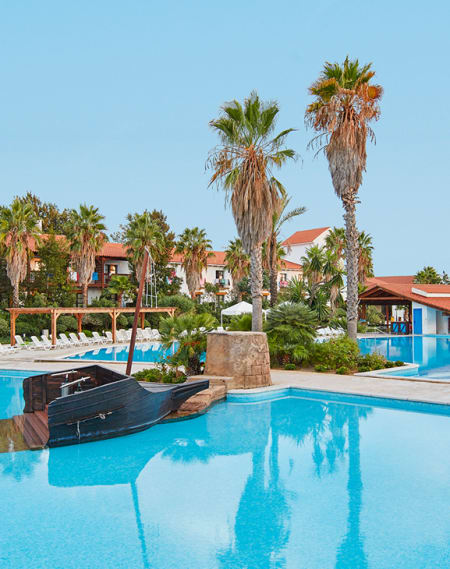 Unlimited access to PortAventura Park included

1 day in Ferrari Land included

Standard and Deluxe Superior rooms available
Hotel El Paso at PortAventura World
Hotel El Paso at PortAventura World
Relax in pure Mexican style
Transport yourself to an authentic hacienda in colonial Mexico. Experience all the colour and beauty of Mexico at the Hotel El Paso, as well as all the benefits of an all-inclusive stay* on the Costa Dorada.
Hotel El Paso: an All-Inclusive hotel in Salou

Enjoying unforgettable days on the Costa Dorada is one of the best decisions you can make for your holiday. But knowing that you can enjoy everything you want without having to pay extra is sure to make your stay unbeatable. PortAventura World hotels are one of the most complete accommodation options available and if you are looking for an All-inclusive hotel in Salou, PortAventura World's Hotel El Paso is exactly what you need.

PortAventura World's All-Inclusive Hotel

If you're looking for a hotel that offers the All-inclusive board basis, then look no further than Hotel El Paso. Located in Salou, it is one of the most highly regarded All-inclusive hotels in the area, and is beautifully decorated, just like a colonial Mexican hacienda. Both the rooms and the communal areas will surprise you with their colours, their level of comfort and their exotic gardens. With the All-inclusive service you will enjoy breakfast, lunch and dinner, as well as snacks and drinks.In addition to the All-inclusive services, Hotel El Paso also offers guests a unique experience, and transports them to the heart of colonial Mexico.

You have at your fingertips so many possibilities that will give you unlimited access to the most impressive theme park on the Mediterranean coast. Without a doubt, one of the best choices to enjoy Salou and its range of leisure activities.

What does the Hotel El Paso All-Inclusive regime include?

Upon arrival at the hotel, each guest will receive an All-Inclusive wristband, which can be used in all the hotel facilities, as well as in some specific establishments in PortAventura Park. The All-Inclusive service will be activated from 11:00 on the day of arrival.

The All-Inclusive board basis may vary depending on the season and time of year (it is normally available in summer). If you want to know exactly what this service includes, we recommend that you take a look at the booking process where you can find more detailed and up-to-date information about everything that this service has to offer and on what dates it will be available.
Read more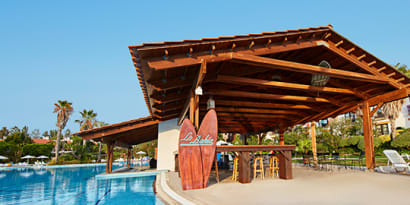 Rooms at Hotel El Paso
The different buildings that make up this hotel are surrounded by lush and exotic gardens. Enjoy an unforgettable experience in these charmingly decorated and extremely comfortable rooms.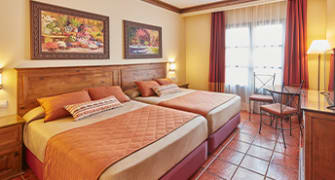 These rooms are distributed over six buildings around a central area with spectacular gardens and irresistible crystalline water swimming pools.
1 double bed and 1 folding bed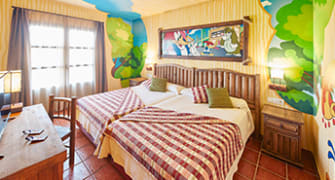 Deluxe Superior Woody & Friends Rooms
Exclusive rooms specially designed for the kids.
1 double bed and 1 folding bed

Free Express Premium for PortAventura Park
Hotel El Paso Services
Explore an amazing Mexican hacienda in PortAventura's Hotel El Paso, only one hour from Barcelona. An original hotel, full of lush greenery and ideal for all families thanks to the All-Inclusive* board basis.
Games area: pool and table tennis

Cots for babies at no additional charge (subject to availability)
Free parking at the hotel (subject to availability)
Pool towels (deposit payable and additional charge for this service)

Sun loungers and umbrellas (subject to availability)

Outdoor cold-water jacuzzi

1 adult pool (May - September)

1 children's pool (May - September)
Restaurants in Hotel El Paso
Choose from a wide selection of restaurants at Hotel El Paso and sample the most delicious, mouthwatering dishes.
Merida
PortAventura World's Merida restaurant offers different surroundings: garden, Mexican home with a fireplace, and the stables. In all of them you will find the most delicious international food.
La Bahia
At the hotel pool you will find this bar where you can enjoy a refreshing drink whilst bathing in the Mediterranean sun.
El Coyote
Enter the fabulous El Coyote, a themed restaurant in true Tex-Mex style featuring pictures of the most famous classic Hollywood actors and actresses.
El Laberinto
El Laberinto, situated next to the main building, will take you to the true heart of Mexico. 100% outdoors, this bar-terrace is the ideal place to enjoy a drink or two on a warm Costa Dorada night.
Club Maya
This terrace snack bar offers a wide variety of international cuisine throughout the day to make sure you have absolutely everything you could need during your stay at the hotel.
Bar Maya
This bar, located in the main Mexican-style building, has an elegant interior area and a fabulous terrace to relax and enjoy views of the garden full of exotic plants.
How do I get to Hotel El Paso?
Frequently Asked Questions
We answer any questions you have about our hotels
How many days of free access to the park is granted to hotel guests?

Access to PortAventura Park is unlimited throughout your stay and includes the whole day on which you arrive at and leave the hotel.

At what time can I enter and leave the hotel?

Rooms are available from 3 pm, however you can arrive earlier at the hotel and, once you have checked in, you will be given the relevant access to start enjoying the park. Rooms must be vacated by 11 am, although you are welcome to stay in PortAventura Park until closing time on the same day.

From what age do we have to pay for children in PortAventura World hotels?

Children under 2 years of age stay free at our hotels. The child rate applies between 2 and 12 years old.

Is parking available at the hotels?

Each hotel has its own free parking for guests. There is no need to book a place, however the service is subject to availability.
Discover the resort's hotels
Enjoy our 4- and 5-star themed hotels with tickets to the parks included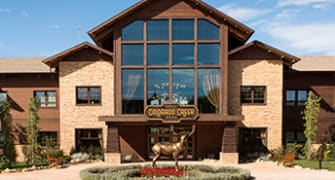 With direct access to the park through the Far West area, you can relive the gold rush in our Far West-themed hotel.
Located in PortAventura World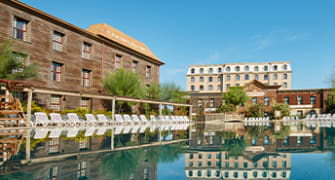 With direct access to the park through the Far West area, at this hotel you can feel like a real Wild West cowboy or cowgirl
Located in PortAventura World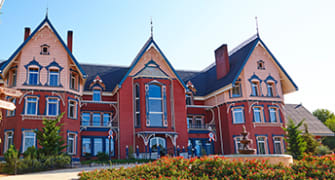 With direct access to the park through the Far West area, this hotel will immerse you in the luxury of the Victorian era of the Far West.
Located in PortAventura World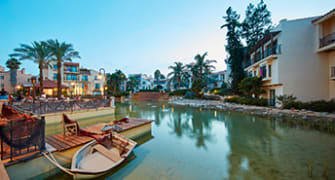 With direct access to the park through the Mediterrània area, this hotel will transport you to a charming fishing village.
Located in PortAventura World
A tropical oasis that will transport you to the real Caribbean, with its spectacular beaches and balmy atmosphere.
Located in PortAventura World