Servicios
Rooms are available from 3 pm, but you can arrive at the hotel earlier. Once you have checked in at reception, you will be given the relevant access to start enjoying the park

Check-out is at 11 am, although you can stay in PortAventura Park until the park closes for the day. Both cases are subject to the official opening dates and times that you can check

here

Currency exchange at reception

Car rental service with GoldCar

24h emergency medical service (additional charge for this service)

Internet centre (additional charge for this service)

Laundry service (additional charge for this service)

Cots for babies at no additional charge (subject to availability)

Free parking at the hotel (subject to availability)

Sun loungers and umbrellas (subject to availability)

Pool towels (deposit payable)

2 adult pools (May - September)

1 children's pool (May - September)
Restaurants:
Available board bases are: bed and breakfast, half board (evening meal at the hotel buffet, drinks not included), or full board (evening meal at the hotel buffet, drinks not included, and restaurant voucher redeemable for lunch in PortAventura Park)

If your reservation includes breakfast, evening meal, or both, you can select a specific time slot at check-in (subject to availability)

Restaurant reservations must be made before 12 pm for lunch and before 6 pm for dinner (subject to availability)
Servicios de pago adicionales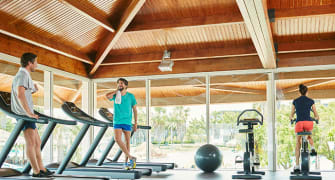 Servicio de gimnasio
Las vacaciones son un momento para disfrutar, relajarse y desconectar. Una buena forma de olvidarse del día a día es practicando deporte y para ello dispones de los gimnasios del Hotel PortAventura y del Hotel Caribe.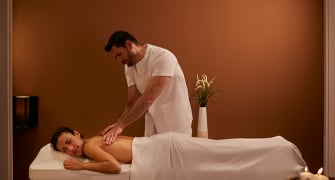 Servicio de masajes
Después de un día lleno de adrenalina, date un capricho y recupérate de todas las emociones vividas con los tratamientos de Wellness Center en Hotel PortAventura (Fitness & Wellness) y Hotel Caribe (Samaná), con reserva previa y según dispobilidad horaria.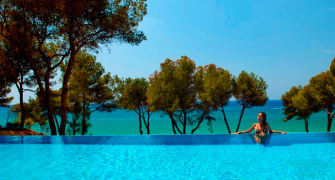 Lumine Beach Club
Si te gusta el sol y el agua, puedes bañarte en la piscina o relajarte en la playa con total tranquilidad e intimidad, en un entorno auténticamente mediterráneo en LUMINE Mediterránea Beach&Golf Community.