Hotel + Tickets from €51* per person/night

Price for 1 night in a 2-adult, 1-child (under 12) bedroom: €153

When to book? Between 18 September and 10 November

When to travel? Dates specified in the terms and conditions, between 25 September and 10 November

Unlimited access to PortAventura Park + 1 access to Ferrari Land per person
This Halloween, fear is here to stay forever
This Halloween, fear is here to stay forever
Come and enjoy every chill!
We can't deny it, we love Halloween, and that's why at this time of year PortAventura World transforms in a unique way, like you've never seen before!

Imagine it… all our hotels and parks dressed up down to the smallest detail for Halloween, shows that you can only see at this time of year, and you and your family enjoying all of this from only €51 per person and night.
Have a great time creating unforgettable memories thanks to unlimited access to PortAventura Park during your stay and one day of access to Ferrari Land, the ideal adventure for 2 adults and 1 child who love to have a frightfully good time!
Read more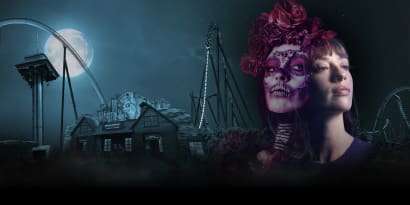 How many days can I access the parks?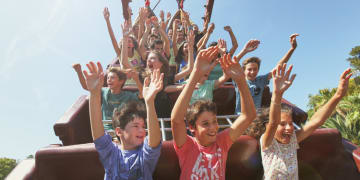 1 night
2 nights
3 nights
2 days
3 days
4 days
1 day
1 day
1 day
Caribe Aquatic Park
-
You can buy discounted tickets on the days that you are staying at the hotel
Here we show you an example of how many days you can access the parks according to how long you're staying in our hotels. The more nights you stay, the more days of access you'll have to our parks!
Discover our hotels
Enjoy an immersive experience in our parks and our hotels, located in the same resort, so you don't miss a thing!
A tropical oasis that will transport you to the real Caribbean, with its spectacular beaches and balmy atmosphere.
Located in PortAventura World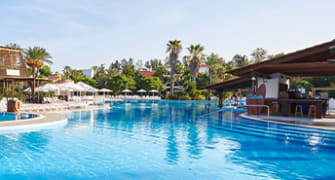 This hotel will dazzle you with its spectacular gardens, its exotic nature, and the beauty of a traditional Mexican colonial-style hacienda.
Located in PortAventura World
Price from €51, per person per night in Standard rooms occupied by three people, two adults and a child, on accommodation only basis.
This price is available for the following dates and hotels:
• Hotel El Paso 4*: September 2023: 25, 26, 27, 28. October 2023: 4, 5, 15, 16, 17, 18, 19. November: 10.
• Hotel Caribe 4*: October 2023: 20.
The price is limited to a maximum of 20 rooms per date during the validity period for bookings made until 10/11/2023.
According to the parks' opening dates and times, stays include unlimited access to PortAventura Park and one day in Ferrari Land per person during the stay.
Children are aged between 2 and 12 years.
Adults are aged 13 years and over.
Free accommodation for children under 2 years old.
See supplements for extra guests staying in the room and other board bases.
Bookings made by telephone or by e-mail through the PortAventura World booking centre will incur an administrative fee of €8 per booking.