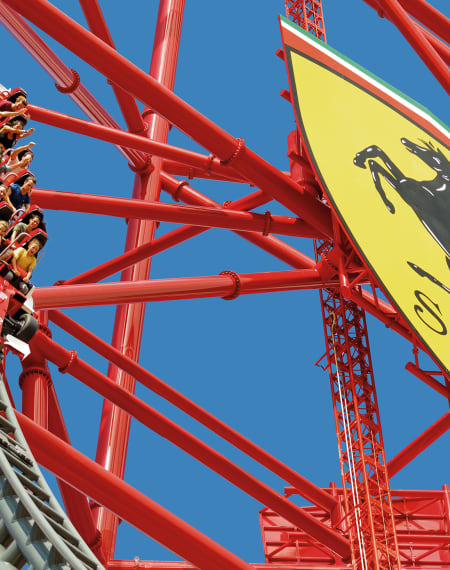 Minimum height: 1.40 mMaximum height: 1.95 m
Red Force, 0-180 km/h in only 5 seconds
General information
September opening times:

September opening times:

Opening times not available

Accessibility

Accessibility

Exclusive access for people with disabilities and reduced mobility
September opening times:
September opening times:
Opening times not available
Accessibility
Accessibility
Exclusive access for people with disabilities and reduced mobility
Feel the adrenaline and have fun at 180 km/h!
Experience the full range of F1™ sensations on a spectacular ride with an 880-metre route, accelerating from 180 km/h in just 5 seconds and reaching a maximum height of 112 metres.


This ambitious project started to take shape in early 2016 with a great team of specialised professionals who put everything together perfectly. A great job from the very first stone laid to the careful placement of the highest point of the attraction: The Summit of Ferrari Land.

A year from the start, the trademark of the legendary Italian brand, the Ferrari Shield, arrived in Ferrari Land. The first "Prancing Horse", 12 m high and weighing 9 tonnes, can be seen at the front of the accelerator.
Read more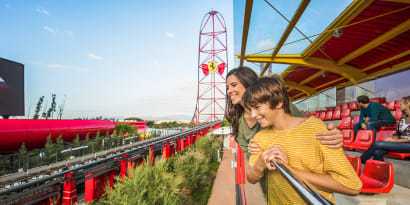 Upgrade your Red Force experience
Take advantage of all the benefits that PortAventura World offers so that you can live this experience to the max
Recomendada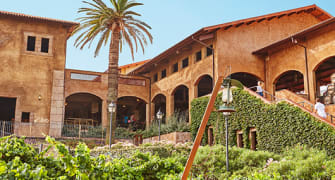 Fast access to Red Force
Enter through the Express access and enjoy Red Force before everyone else!
Explore other attractions
Recomendada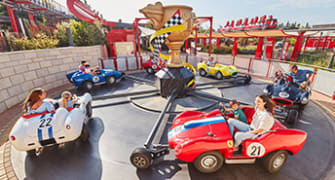 Champions Race
Hold on tight around the bends

Minimum height accompanied 0.90 m
Recomendada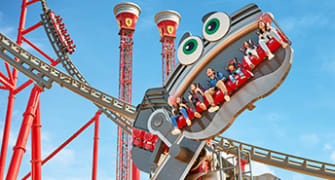 Crazy Pistons
Minimum height accompanied 1.20 m
Recomendada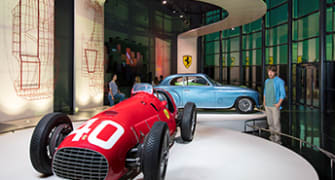 FerrariLand Gallery
Discover the Ferrari legend
Recomendada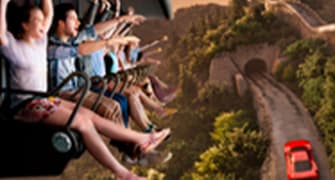 Flying Dreams
Where dreams of flying become a reality

Minimum height accompanied 1.00 m
Recomendada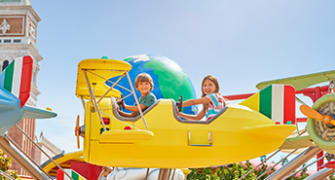 Flying Race
A race through the skies of Ferrari Land

Minimum height accompanied: no minimum height
Recomendada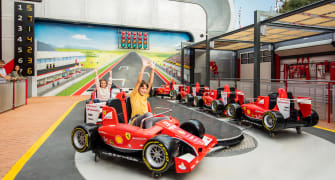 Junior Championship
A circuit for the little ones

Minimum height accompanied 0.90 m
Recomendada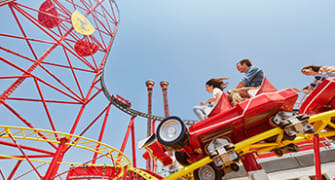 Junior Red Force
Your first Ferrari experience

Minimum height accompanied 0.95 m
Recomendada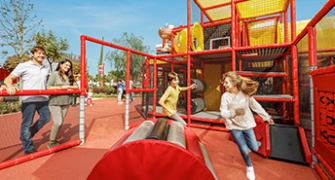 Kids Podium
The most fun slides. Made-to-measure adventure!
Recomendada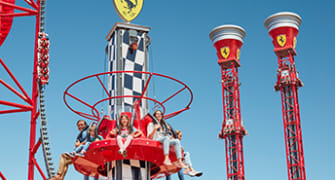 Kids Tower
Excitement tailored to the little ones

Minimum height accompanied 1.00 m
Recomendada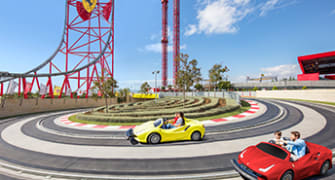 Maranello Grand Race
Minimum height accompanied 1.00 m
Recomendada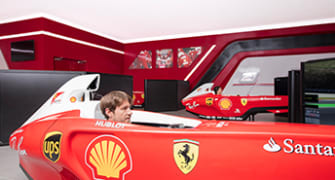 Pole Position Challenge
The authentic F1 simulator
Recomendada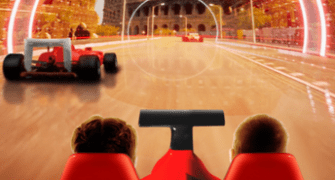 Racing Legends
A Ferrari-style experience. Fasten your seatbelt!

Minimum height accompanied 1.10 m
Recomendada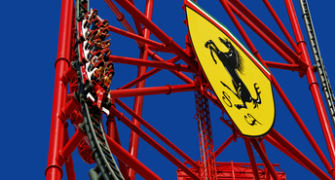 Red Force
From 0 to 180 km/h in only 5 seconds
Recomendada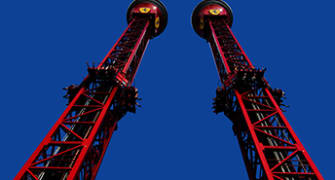 Torre Caida Libre
Free fall tower and 55 metres of pure adrenaline

Minimum height accompanied 1.30 m
Recomendada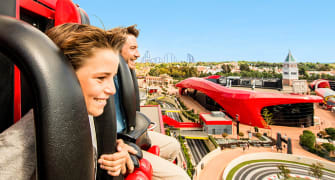 Torre Rebote
Bounce-back tower, a fun machine

Minimum height accompanied 1.30 m