Between Far West and Polynesia

Be amazed by Furius Baco, Europe's fastest roller coaster

Enjoy impressive shows at the Mediterrània lake

Browse in the Records de PortAventura store and take home endless memories so you never forget the park

Find the best Mediterranean flavours in Racó de Mar
Discover Mediterrània, one of PortAventura Park's most distinctive areas.
Inspired by a fishing village, it has equal doses of fun and tradition. Let yourself be seduced by the coast's warm climate, friendly people and good food.


Cross the threshold of PortAventura Park and enjoy the Mediterrània themed area, the first of six to discover.
Read more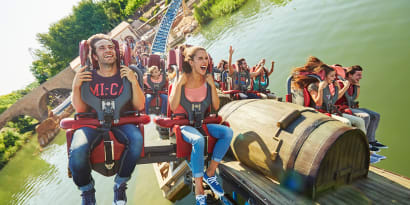 Rides in Mediterrània
In Mediterrània, speed lovers can make their way to Furius Baco where they will have the best fun ever on this attraction that catapults riders from 0 to 135 km/h in only 3 seconds. Embark on a voyage of discovery by taking a boat from Port de la Drassana and sail to ancient China; or catch a train at the Estació del Nord that will take you to the Far West.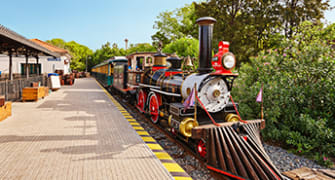 Estació del Nord
PortAventura Park. Mediterrània.

Passengers, all aboard the train!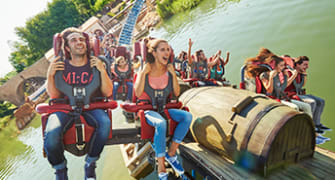 Furius baco
PortAventura Park. Mediterrània.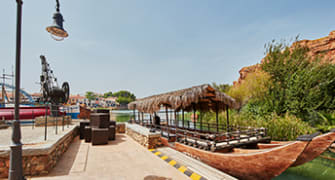 Port De La Drassana
PortAventura Park. Mediterrània.
Shows in Mediterrània
Live music, parades, fireworks and many more surprises fill the main street of Mediterrània to thrill young and old alike. If you come at Christmas you can personally deliver your letter to the Emissaries of the Three Kings.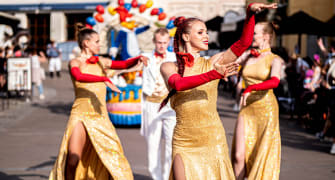 PortAventura Parade
PortAventura Park. Mediterrània
Restaurants in Mediterrània
In the Mediterranean we are renowned for our excellent cuisine. Explore the variety of flavours offered by the restaurants of this world and share the experience with the whole family. Paella, tapas, wine, and delicious desserts will help you recharge after a day full of excitement.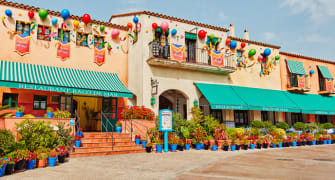 Raco De Mar
PortAventura Park. Mediterrània.

Mediterranean cuisine: salads, rice dishes, pizza, and pasta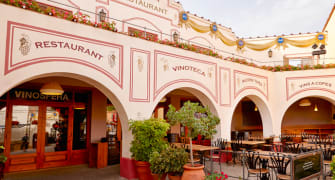 Vinosfera Tapes I Vins
PortAventura Park. Mediterrània.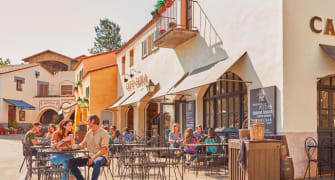 Cafe Saula
PortAventura Park. Mediterrània

Coffees, drinks, pastries, sandwiches, pizzas, and salads
Puntos De Alimentación Mediterranea
PortAventura Park. Mediterrània.
Shops in Mediterrània
Dive into the fabulous Mediterrània shops and take away a souvenir of PortAventura Park so that you will always remember your fantastic time with us.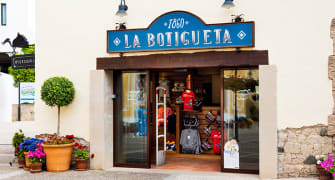 La Botigueta
PortAventura Park. Mediterrània

Cash, card, and hotel key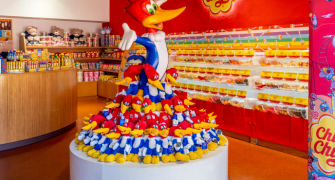 Cal Caramel
PortAventura Park. Mediterrània

Cash, card, and hotel key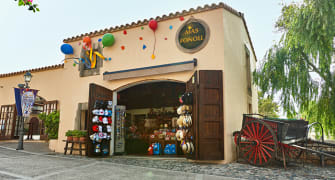 Mas Fonoll
PortAventura Park. Mediterrània

Cash, card, and hotel key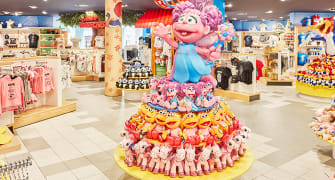 Records de PortAventura
PortAventura Park. Mediterrània

Cash, card, and hotel key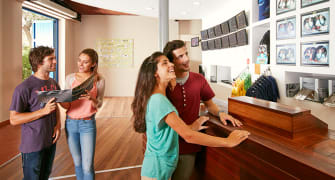 Fotografia Furius Baco
PortAventura Park. Mediterrània

Cash, card, and hotel key
Discover where to find the world of Mediterrània in PortAventura Park