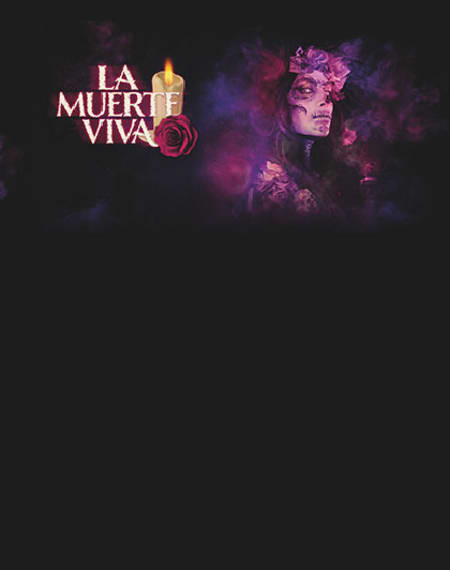 La Muerte Viva: enter the world of the undead
General information
December opening times:

December opening times:

Opening times not available

Age restrictions

Age restrictions

12 years old if accompanied by an adult, and 14 years old to access alone

Accessibility

Accessibility

Access for people with disabilities and reduced mobility
December opening times:
December opening times:
Opening times not available
Age restrictions
Age restrictions
12 years old if accompanied by an adult, and 14 years old to access alone
Accessibility
Accessibility
Access for people with disabilities and reduced mobility
Be a part of this spine-tingling celebration
Celebrations don't always go as planned. And that's precisely what has happened in the México area of PortAventura Park: what should have been a party has been transformed into one of the most chilling places in the park.


In this passage, you will enter a Mexican hacienda in the throes of the Day of the Dead festival. You will be transported to the afterlife and have to find your way back to the world of the living.

Elegantly dressed skeletons, ghostly mariachis, mummies, and all of Mexico's darkest history, traditions, and legends are waiting for you in an experience where screams also play a leading role.

Experience this adventure for only €7 or buy the Halloween Passport.
Read more