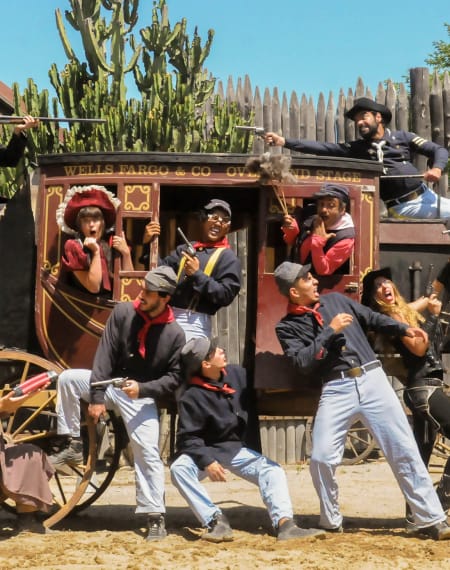 Bang Bang West, pure Far West with a touch of humour
General information
May opening times

May opening times

Park closes at 18h: 13h - 16h
Park closes at 19h, 20h or 22h: 13h - 15h - 17:30h
Closed: Mondays

May exceptional opening times

May exceptional opening times

No exceptional opening times

June opening times

June opening times

Park closes at 19h: 13h - 16h
Park closes at 20h or 22h: 13h - 15h - 17:30h
Park closes at 23h or 1h: 15h - 17:30h - 20h
Closed: Mondays

June exceptional opening times

June exceptional opening times

12/06 and 19/06: 13h - 15h - 17:30h
Closed: from 20/06 to 28/06

Accessibility

Accessibility

Exclusive access for people with disabilities and reduced mobility
May opening times
May opening times
Park closes at 18h: 13h - 16h
Park closes at 19h, 20h or 22h: 13h - 15h - 17:30h
Closed: Mondays
May exceptional opening times
May exceptional opening times
No exceptional opening times
June opening times
June opening times
Park closes at 19h: 13h - 16h
Park closes at 20h or 22h: 13h - 15h - 17:30h
Park closes at 23h or 1h: 15h - 17:30h - 20h
Closed: Mondays
June exceptional opening times
June exceptional opening times
12/06 and 19/06: 13h - 15h - 17:30h
Closed: from 20/06 to 28/06
Accessibility
Accessibility
Exclusive access for people with disabilities and reduced mobility
Will the villains be able to break into the safe and get away with the loot?
PortAventura Park presents a spectacular, rhythmic, action-packed, fun-filled show to amaze the entire family. Without even realising, you will become immersed in the Far West. Real soldiers in a crazy fort, old wooden constructions, dust, bullets, watering holes, cannons, explosions, and gunfire... so much gunfire! All bathed in the characteristic humour of Bang Bang West!

Maximum action in the heart of the European theme park's Far West area with a show that follows in the true traditions of the Wild West movies... without leaving PortAventura Park! You will be impressed by the lookout post next to the farmhouse, the water mill, even the latrine… and all this will be the source of many surprises for the audience of PortAventura Park's hilarious show, Bang Bang West.


It all starts on a great day at the Penitence bank. Sergeant William Callaghan is waiting for the lovely Dolly, who is carrying a large sum of money to deposit in the bank. Can he keep safe all of the money with only a small military unit? Hopefully the Collins, the evil and famous band of villainous brothers, will not show up and try to take the loot.

The clumsy but friendly soldiers will do their best to defend the bank from any mishaps.

Bring your family to the most despicable and fun show in PortAventura Park. In Penitence City's most guarded fort, you will embark on wild adventures in pure Far West style with specialist actors, acrobats, explosions, and gunshots... genuine and unbridled madness! There's a lot of action and humour in this show at PortAventura Park!

If Far West is your favourite theme area, you simply can't miss out on the themed hotels over there. You can choose between Hotel Gold River, Hotel Mansión de Lucy, and Hotel Colorado Creek, all with multiple benefits. How can you resist?
Read more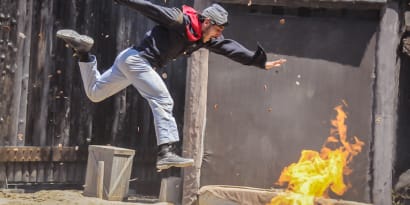 Explore other shows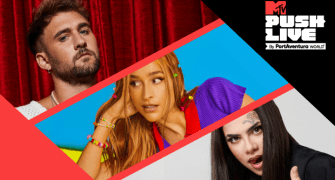 MTV Push Live
PortAventura Park. Far West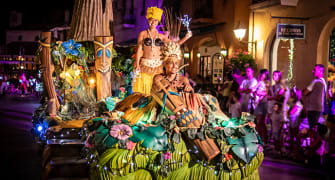 PortAventura Parade
PortAventura Park. Mediterrània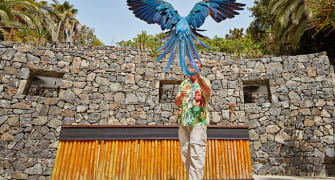 Aves del Paraíso
PortAventura Park. Polynesia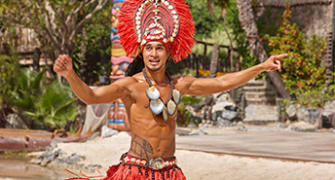 Aloha Tahití
PortAventura Park. Polynesia

For those who want to discover new cultures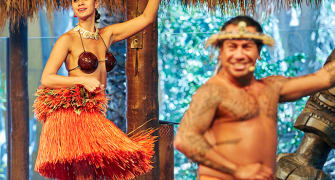 Pareos en Bora Bora
PortAventura Park. Polynesia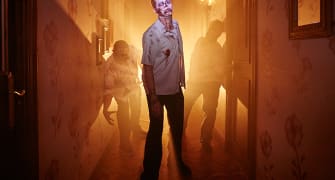 REC © Experience
PortAventura Park. Polynesia

For those who love a good scare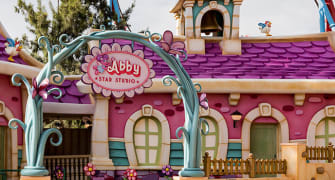 Abby Star Studio
PortAventura Park. SésamoAventura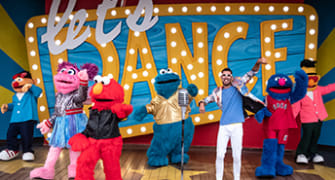 Let's Dance
PortAventura Park. SésamoAventura
Cuidemos el Planeta
PortAventura Park. SésamoAventura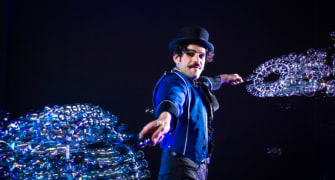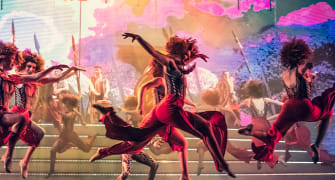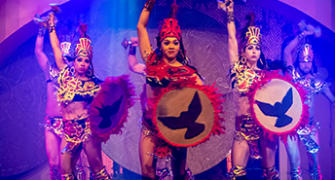 Fiesta Mexicana
PortAventura Park. México

For those who want to be entertained while they eat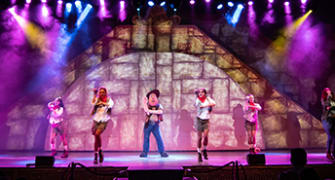 Las Aventuras de Tadeo Jones
PortAventura Park. México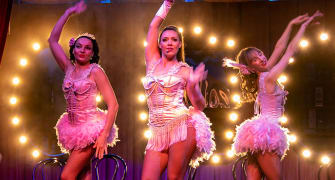 Can Can West
PortAventura Park. Far West

For lovers of dance and good music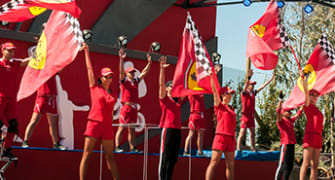 Acrobatic Show Ferrari Land
For drivers with a lot of pace